Site of Smart Library in Nazrul Tirtha, New Town
How does one design a smart library in this digital age where e-books are abundant (
https://books.google.co.in/
), sometimes free, while the Kindles of the world have made books almost obsolete? Is there a need for a book library at all? These were some of the questions discussed in a brainstorming session held yesterday with Dr Arun Chakraborty, DG National Library, Ms Arundhati Biswas, former US resident and officers of Hidco and NKDA.
We concluded that a good public library also serves as a social meeting point and I recalled that a National Geographic documentary had shown how San Diego city turned itself over into a smart city based on the a great Central Library that was created with public participation and contribution. Here is the video
https://www.youtube.com/watch?v=LAjznAJe5uQ
(see, especially, from 4minute onwards).
In Swapna Bhor, the Seniors' Park in New Town, a beautiful library has been in operation for the last few years. This uses a model that has an attached coffee shop, a newspaper and magazine reading space, several books for borrowing, and, the most interesting, an opportunity to buy latest books at a small discount through an arrangement with the book store Story:
Library Room in Swapna Bhor: Lending, Reading and Selling
We concluded that there should be priced e-books and e-subscriptions, e-readers like Kindles that can be borrowed, audio books, CDs/ DVDs and Online resources, Digital Archives, information centres and career guidance corners along with newspapers, magazines and a coffee shop. I recalled the ambiance of Cavilam, Vichy, France that I often went to during my training at ENA, France: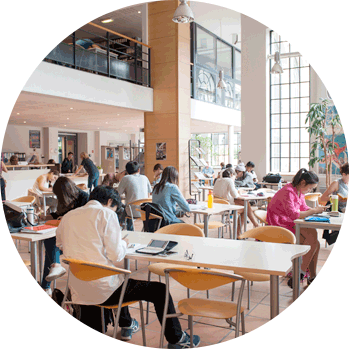 Cavilam Library has Digital Wing on first floor,
books and magazines and reading spaces on
ground floor
We agreed that there would be a children's section, colourful and vibrant. I remembered the public library in France where the kids section had a great comic section:
Photo from internet: Comic Books in Children's Section of a Library
in France
We decided to form an advisory committee consisting of Arun Chakraborty DG National Library and DG Rammohun Library Foundation and a resident of New Town, Dhrubajyoti Chattopadhyay, Vice Chanellor of Amity University New Town, Anuradha Biswas, past US resident and resident of New Town and officers of Hidco / Nkda. We would expand the committee further.
Meanwhile, we requested Chief Engineer Supriyo Bagchi, GM(Engg)2 Arup Ghosh and Consulting Architect Parineeta Hati to make some layout plans that can be discussed in the next meeting of the Advisory Committee.
* * *
Some of the suggestions received in the brainstorming session included the following written suggestion by Ms Biswas:
* * *
Goals
1.
Make available all information and resources to every member across all age groups.
2.
Provide a quiet and safe place for study, reading and constructive use of leisure time.
3.
Conduct activities that strengthen community bonds through socio-cultural and educational development.
Divisions
1.
General Section
–
a) Open shelves for easy access to books, AV material, magazines
b) Adequate seating
c) Public computing area with PCs and a printer machine
2.
Children's section
–
a)
Shelf heights suitable for children
b)
Colourful furniture, floor rugs
c)
A storytelling corner
3.
Teen services
-
a)
Seating to enable group study/project
b)
Caters to middle school and high school children (classes 6 to 12)
4.
Events and workshop corner
5.
Cafeteria
Library Plus Activities
1.
Events for children can be held – a workshop, storytelling session, documentary show etc.
2.
A 'Friends of the Library' program under which volunteers sign up to assist the library management regularly in maintaining the library and conducting activities, thus involving the community at large.
3.
An 'Over-reach service' under which a weekly mobile van carries books to senior citizens' complexes in Newtown.
4.
An annual book sale of old books from the library can be done.
5.
The atmosphere of the library should be warm and welcoming.
6.
Career counselling for students may be organised.
7.
High school and college students may be allowed to volunteer their services from time to time against a certificate for community service.